Welcome to Kinesio

 

Tape , the original elastic therapeutic
taping method!

For over 35 years Kinesio® Tape has been used by athletes and non-athletes alike.  Widely popular within the world of rehabilitation and athletics, Kinesio® Tape has garnered worldwide recognition from Olympic games to World Cups.
Kinesio® Tape has been around for generations and has been the tape of choice for physical therapists, chiropractors, athletic trainers and other types of practitioners of human health and performance.  Invented in Japan by Dr. Kenzo Kase in 1979 and based in Albuquerque, New Mexico, Kinesio® Tape is used in over 90 countries, and an estimated 15 million applications are administered annually worldwide.  Now you too can learn how to use Kinesio® Tape…..the right way!
How does it work?
 Kinesio® Tape is the innovative method of elastic taping for rehabilitating injured tissues.  There is no medicine in the tape.  Instead, we rely on the tape's elastic recoil once it is stretched and placed on the body.  This recoil is a type of stimulus, which can act as a powerful cue for the body's self-correcting abilities.  From increasing local circulation to helping activate weak, overused muscles, Kinesio Tape continues what the coach, trainer or health provider starts in their session.
Proper education in taping technique is crucial to managing this stimulus correctly, and the more you know about anatomy, as well as the Kinesio method, the better your results will be.  A CKTT® workshop is the most solid foundation in this modality you will receive with the least investment in time and money.  Register today, add value to your practice and help your athletes and clients realize their full potential!
Your Kinesio Tape Instructor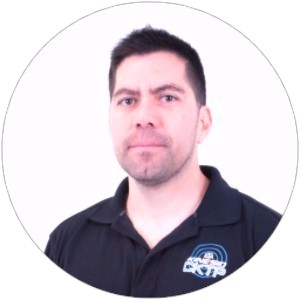 Matthew Villegas
Licensed massage therapist, NM Lic #5045, Registered massage therapy instructor, NM LIc. #I-0540, Certified Kinesio Taping Instructor
Matthew has been practicing massage for fifteen years, and has been teaching the Kinesio Taping® method for five years.
 As a massage therapy instructor in anatomy, sports massage and craniosacral therapy, Matthew brings a manual therapist's understanding of Kinesio® Tape and how it interacts with the body as a stimulus, much like the stimulus of a therapist's hand.  
With thorough knowledge of how the tape works, and over a decade of experience working with this modality, Matthew prides himself on being able to convey the method to students in a clear and concise manner.
There's only one thing left to do.  Find a workshop date that works for you and get ready to change your practice forever.